Serving Learners Around the World
Our mission is to inspire and educate the next generation of STEM professionals.
---

Support
Connect with us by phone, e-mail or videoconference.
8 am - 8 pm Monday - Friday
US Central Time

24-7 Learning
Visit our YouTube channel for introductory videos on engineering or coding. Meet engineers, coders, and makers for inspiring stories.
.

Superior Quality
We buy the best parts for you. The parts are classroom tested to ensure that each part lasts.

Partnerships
We are your learning partner. Let us help you with your learning.
About us
We are a STEM Education non-profit based in Wisconsin, United States. We reach learners around the country and the world. We publish curriculum, produce learning kits, and provide workshops for students, teachers and self-motivated learners.
---
Learn more about our team, our mission, our experience and why we are so passionate about STEM and STEAM learning... View more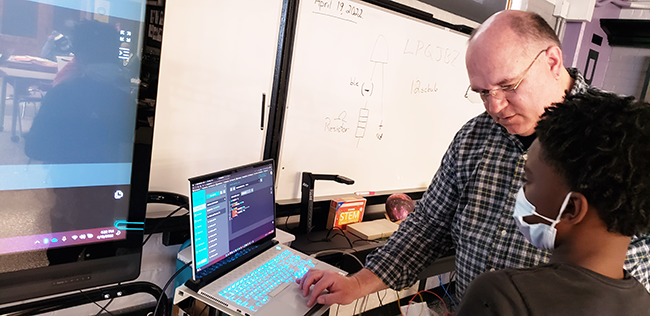 Our Mission & Passion
OUR MISSION IS TO PRODUCE CUTTING-EDGE AND RIGOROUS STEAM EDUCATION RESOURCES, PROGRAMS AND EXPERIENCES FOR SCHOOLS, HOMESCHOOLS, OUT-OF-SCHOOL PROGRAMS, AND SELF-MOTIVATED LEARNERS.
Whether you or your teams are competing in a science or engineering fair or competition, completing a class project, or learning on your own let us help you build your skills in engineering, coding and science.
---
We have spent the last 10 years building relationships with manufactures and suppliers around the world which specialize in producing only the best parts...